Mark Cohen,
Founder and Executive Director of Stomp the World, has been a classroom teacher for 18+ years. During his career, he has seen the need and desire children have to learn about the numerous opportunities our world has to offer. Mark believes Stomp the World programs are a great opportunity to offer Saint Louis area youth experiences outside of the classroom.
Mark is grateful to all of the great people who volunteer their time to make Stomp the World a reality and help us to continue fulfilling our mission to the youth in the Saint Louis community.

Kevin Lee,

CO-Founder and Assistant Director of Stomp the World, has been dancing since he was 15 years old. Kevin started studying dance in 2005 where he also became the first male cheerleader at Kirkwood High School. After completing high school Kevin continued his education at the University of Missouri-Saint Louis where he studied the modern dance styles of Martha Graham and Eric Hawkins. Kevin received his degree in May of 2013 and since then has taught Step for the Consuming Kinetics Dance Company, dance to the
Riverview Gardens Sapphires dance team,
many summer camps, groups, and to couples for weddings. Kevin is currently a teaching artist with Consuming Kinetics Dance Company (CKDC) and is excited to be part of Stomp the World. He is looking forward to fulfilling the mission to the youth across the globe.

Jessica Schlager,
Board President, has been teaching children in a preschool setting since 2010. Because of her background in teaching, she knows the positive impact that others can have on a young persons life. Jessica is married and has two wonderful children. She enjoys and looks forward to using her experience to have an impact on others and give them the tools and experiences they need to help them grow and develop in the years to come.

Timere Lee,
Board Member of Stomp the World,
has been an expanded function oral dental assistant for 5years. Timere is known for having a courageous, lively personality, and always smiling. Timere is happily married with two boys who bring her so much joy. After having them she realized how important it is to make a difference in the community today. Timere believes in making lasting impressions in our children will give them memories and adventures that are unforgettable.


Jodi Miller,
Board Member of Stomp the World, had been an active volunteer with STW for many years. As Director of Camp Emeth/Youth Engagement at Congregation Shaare Emeth for 14 years Jodi has extensive experience in all aspects of youth programming. Jodi is passionate about providing travel opportunities and experiences outside of the classroom for all of the STW kids!

Dwayne Russell,
Board Member of Stomp the World,
For the last 3 years I've been blessed with the opportunities to travel with great friends and gain new adventures with each trip. This is a privilege that I have treasured greatly for it has exposed me to new experiences that I might not have had on my own and let's me look forward to being able to do the same with my goddaughter. This is what attracts me to Stomp the World and its mission. I feel that every one should have a chance to travel. I look forward to being a part of an organization that encourages and helps the youth broaden their horizons with new experiences beyond their backyards.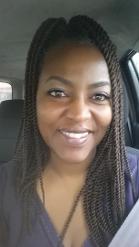 Felicia Shelby,
Board Member of Stomp the World, has been working in the Riverview Gardens School District since 2011.
She has been at the high school since she started. Because of her experience and knowledge as a mother and basketball coach, she has been working with children since 1996. She has a son, but has claimed the thousand of students she has encountered over the past 11 years as her own. She enjoys challenging students to do their best and achieve their goals.