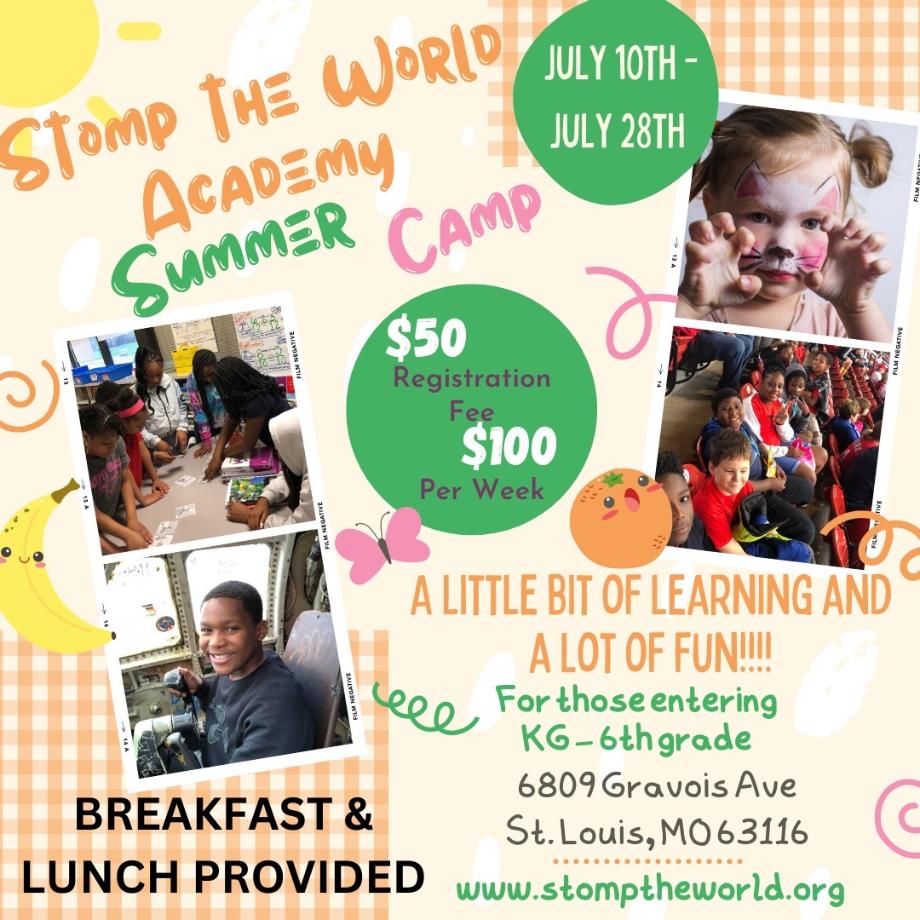 $50 NONREFUNDABLE Fee is due in order to reserve your child's spot. Full payment/Balance due the Friday before the Monday your child starts camp. $250 if you sign up for all three weeks, or $100 a week if not signing up for all three weeks. If transportation to and from camp is an issue let us know. We will see if we can help.
FAQs
1. What are the hours of your day camp? 8:00 a.m. - 5:00 p.m. Monday-Friday
2. Is Breakfast and Lunch provided? Yes! Thanks to our partnership with Operation Food Search we are excited to be able to provide both breakfast and lunch daily.
3. Will there be field trips? Yes, each week will include a field trip outside of camp.
4. Will there be swimming at your camp? We will only swim on special occasions, campers will be notified in advance.
5. Is this like Summer School? Like our motto, "A little bit of learning, but a lot of fun!", we are not summer school but we will incorporate basic math/reading/science into activities to keep students sharp and/or help them brush up on their academic skills.
6. Is there a theme? Each week we will have a theme. All of our themes are based around character education, self-esteem, problem solving, good choices, reading, science, and math.
7. Can we sign up for just one week? Yes, you can sign up for one week or all three weeks.
8. Why is there no camp in June? Many of the students we serve will be attending summer school during the month of June.
9. Why is there no camp the week of July 4th? We're using this week to celebrate the holiday and to train our staff for camp.
10. What can my child expect each day? Each day, we will strive to provide a meaningful experience for your child. We will spend our time, playing games, hands on activities, arts/crafts, singing, dancing, going on weekly field trips, going on walking field trips to parks, etc., choice time, chill time, visits from community members, visits from outside organizations, hands on FUN and Learning!!
Summer Camp - Registration - One Form Per Child
You can submit payment through the donate tab here, Venmo, Cashapp or mail a check
Venmo:
@Stomptheworld
Cashapp:
$Stomptheworld
Address:
6815 Gravois Ave
St. Louis, MO 63116